There was a table in back of the Brattle Theater—the site of the 19th Boston Underground Film Festival—that was selling cheap DVDs of cult classics and other midnight movies. The original Inglorious Bastards, Birdemic, and others of the like. There were shirts with the festival's prized Golden Rabbit on it. There was a beer for sale (though surely not brewed exclusively for the event) called the Lovecraft. And the opening night film—Alice Lowe's terrifically transgressive comedy, Prevenge—concerned a pregnant mother murdering (quite violently) all those involved with her boyfriend's death, at the behest of her still unborn child. We were here to get weird. And for the next five days, we did.

The Boston Underground Film Festival ran from March 22 to March 26 in the heart of Harvard Square. Like all festivals, there was a sense of film overload by the last day; unlike others, BUFF (as it likes to be known) was chiefly concerned with making sure you were having a great time while you were bombarded with what it billed as "a celebration of the bizarre and insane." And the films lived up to that billing.

The aforementioned Prevenge is the kind of pitch-black, dry British comedy that makes you laugh when you really ought to be wincing. It's rooted in the typical pregnancy fear that horror has been mining for years—that one's body is no longer under their control—but Prevenge amps everything up way past 11 until it's a literal blood bath of laughs. It's perfectly balanced by Lowe's direction (and acting, and writing) so that it doesn't ever fall so far into the transgressive that it can't be pulled back. It's absurd, and it knows it is, but we care about it all the same.

Equally hilarious (though far less bloody) was Jerzy Rose's cringe-until-you-crack-up comedy, Neighborhood Food Drive, about two completely narcissistic women (and their equally self-obsessed team of helpers) trying to promote their restaurant by engaging with the community. It's the kind of film it takes a bit to adjust to. But once you realize how Rose is playing the film (straight ahead and unrelentingly dry, as if it were a drama), it's hard to keep a straight face as these would-be do-gooders keep digging themselves deeper and deeper into their own self-righteousness.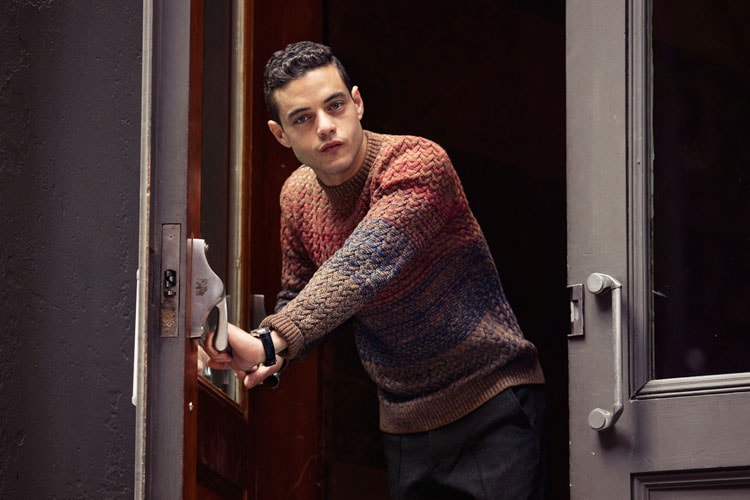 Buster's Mal Heart, Well Go USA Entertainment

The festival held its first ever secret screening, placing the mystery movie in the Friday evening slot, which drew the largest crowd I saw for any screening I attended. The film was revealed to be Sarah Adina Smith's Buster's Mal Heart, a head trip of a movie starring Rami Malek as a beatdown hotel worker whose grip on reality (and possibly his own identity) starts to slip away from him when he encounters a guest bent on informing him of an upcoming catastrophe known as "The Inversion" that will change life as he knows it. It was a perfect fit for the festival: funny but intelligent, deeply weird, occasionally violent, and totally unpredictable. I thought I had the ending pinned down for most of the film, and then it took a step even further into the surreal, which made me reevaluate everything I'd seen before to look for clues. It's a movie best viewed twice, and potentially, with the help of some peyote. It was also encouraging to see that the festival filled the three biggest slots—Opening Night, Friday's Secret Screening, and Closing Night—with films directed by women, each of which delivered compelling and completely unique stories. It will be a good day for festivals and film fans everywhere when that kind of representation is the norm.


Horror fan that I am, the film I was most excited for at BUFF was Jeremy Gillespie and Steven Kostanski's The Void, which took the old-school route towards the creature-gore fests of the 1980s. The setup was as simple as it should've been: a police officer finds a wounded man stumbling down the road and brings him to a local hospital. Said hospital then comes under siege from a horde of cloaked cult figures, while those trapped inside find out that there may be a doorway to another dimension inside the building (because of course there is). The Void makes no bones about reaching for higher purpose or cultural commentary; it wants to scare you, gross you out, and take you on a ride. And the ride is well worth taking. The practical effects are disgustingly effective (I mean that in as complimentary a sense as is possible), and when it was over, I couldn't wait to watch it again. (And I won't have to wait long, as it's being released April 7th). The Void seems like the kind of movie this festival was built for. It's made for the small audience of horror fans who devour this kind of thing, but seems destined to become as much a staple of midnight cinema as the films it's honoring.

There were also the heavy hitters, films that were not full of laughs or blood and guts, at least not of the entertaining kind. They may have been the best films of the festival, though, and I saw them back to back on BUFF's second night. First was Ben Young's Australian crime drama Hounds of Love, followed by my personal favorite, Liam Gavin's A Dark Song. These were big, serious films, and while they certainly fit the bill of bizarre and insane, they were best taken with a stiff drink rather than a bowl of popcorn. Hounds of Love is an abduction story. A young woman, Vicki, is kidnapped by Evelyn and John White (a married couple), chained to a bed in their house, and forced to be their plaything in increasingly troubling games. As the days drag on, Vicki, Evelyn, and John all begin to engage in a series of psychological games with one another. If Vicki can turn Evelyn and John against one another, or bring one of them to her side, perhaps she can escape. On a psychological level, the film is fascinating. On a visceral one, it is deeply troubling. It was perhaps the most transgressive film of the entire festival slate, in that there are times where we really feel like we shouldn't be seeing what we're being shown. And yet, Young knows exactly when to cut away so that we aren't truly voyeurs, and keeps the film from engaging or even enjoying the suffering it displays. It's a tough watch, but it's incredibly well made, and for those who want to stomach it, it may prove rewarding on both a cerebral and technical level.
A Dark Song, IFC Midnight

A Dark Song is an occult film, a chamber piece about a woman and the occultist she hires to perform a ritual of dark magic to summon angels that will fulfill whatever they desire. The entire film takes place in an old, daunting house in the Welsh country, and as the two get further and further into the ritual without getting results, the dynamic between them grows more and more frayed, until finally the film explodes. Gavin directs with a methodical approach (I hesitate to invoke Kubrick, but certainly the influence is there) that layers the increasing pressure so delicately that it's a while before you realize that you're clutching your arm rest and holding your breath. It is a slow but effective burn, and there is a cherry bomb at the other end of the fuse for those willing to take the journey.

It's perhaps fitting that one of the last films I saw at Boston Underground was Skip Shea's feature debut, Trinity. I had been bombarded by black magic, black comedy, blood, guts, tentacles, and more or less everything in between over the past five days, all in the primary service of what the movies are meant to do: tell a story. Trinity, then, was an appropriate end note, as the story it tells couldn't have fit the bill for the festival better, and also couldn't have been more important. The premise of Shea's film is simple: a young man, buying coffee, runs into the priest who abused him when he was a child, and then embarks on a surreal journey through his own past, his memories, and his soul to deal with this unexpected encounter. The purpose of the story could not be more tragic: Shea himself was a victim of abuse by members of the clergy, and told the audience afterwards that the film was fairly autobiographical. It was a powerful moment to reflect on true horror, and how art can be used to explore that feeling, and perhaps even get closer to healing it.

That's what film is for—to tell stories, to expel or explore hurt, to show others a feeling, to make them laugh, or cry, or cringe, or maybe all at once. To let people know that perhaps they are not alone. To illuminate and electrify our lives. Though they took different routes to get there, the films at the Boston Underground Film Festival all took up this burden of storytelling and brought it forth to their audience. And for the most part, they had a hell of a good time doing it.